Clarity, simplicity, and good approaches are more important in business writing than fancy or long phrases. Tell me what you want me to know or accomplish in a concise manner—and make it appealing to the eye! It is as simple as that.
When you utilize Plain English strategies, especially those that focus on the audience: use everyday English whenever feasible, your reader will understand your message clearly.
Use simple sentence structures—two lines should plenty.
Use headings and lists to draw the reader's attention and guide them through the text.
The source document
Use tables—a picture is worth a thousand words.
If required, define technical terms.
Use the active voice—rather than saying, "It was done by us," say, "We did it."
Use direct speech—rather than saying, "The organisation shall," say, "We will."
Use a lot of white space in your document—the document's body language.
Are short and sweet
Are upbeat—'when you send us the paperwork, we'll…' not 'we are unable to'
Until you return the form, I'll be able to assist you.
How to check of you are using simple structure?
Read something aloud, and then ask yourself this question: "If the person was sitting opposite me, would I say this to them?" If the answer is "No"—then don't write it!
What causes all the confusion in writing efficiently at work?
During our formal study, we have been taught specific types of writing which are not the best ways of writing business letters, memos, reports or even emails.
Remember, you were always asked to elaborate/explain/describe the topic/picture in 200/300/500/1000 words.
Let's look at the four broad types of writing and each of them requires different skills from us:
 Academic: to demonstrate knowledge, skills in analysis and reasoning
Evidentiary: to tell the exact story as I experienced it—what I saw, heard, smelled
Literary: Shakespeare, Milton, Dan Brown, Bryce Courtney, Tara Moss
Workplace: to get things done
You learn to use the first three all these years and when you move to corporate world, you are expected to use the fourth one. Resulting, during your appraisals you were told to work on your communication skills.
Workplace Writing requires different techniques… You don't believe me?
Read further.
The given two images will explain the difference between the academic writing and business writing-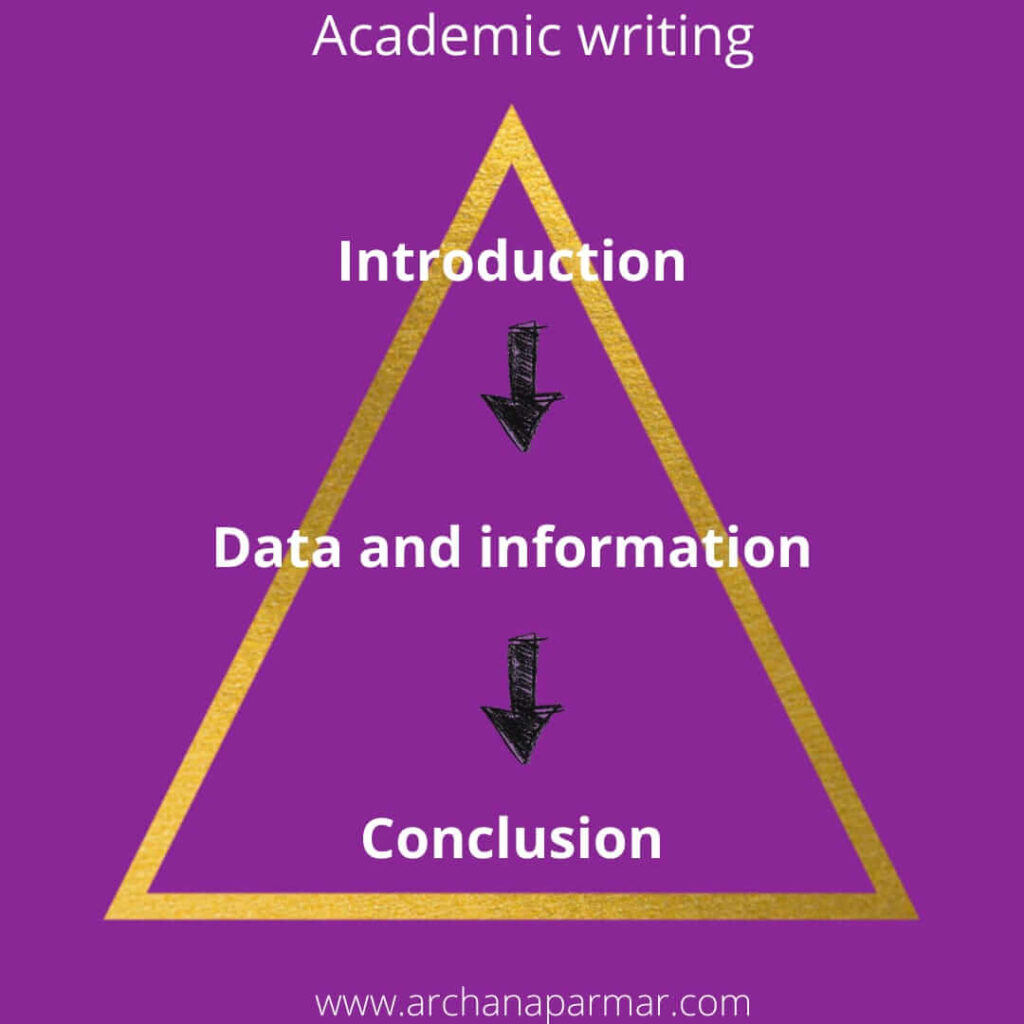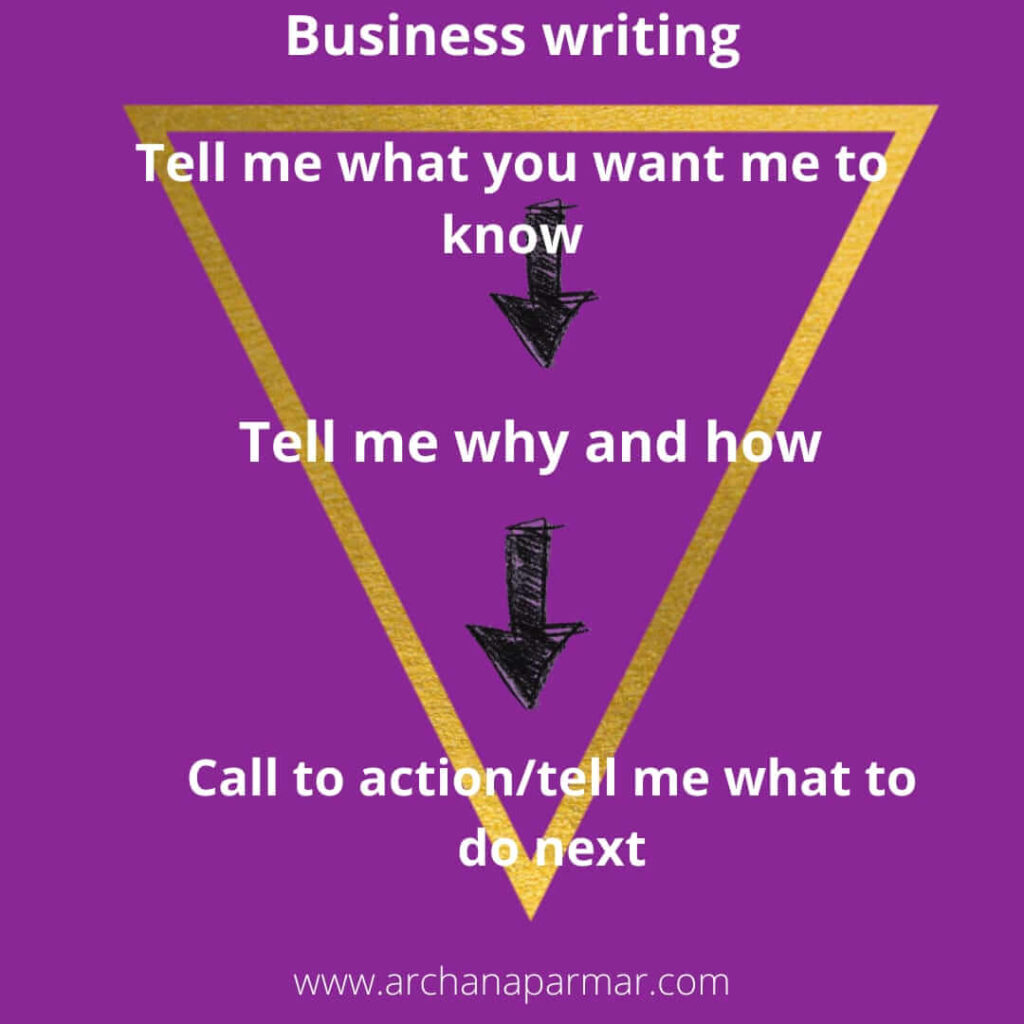 So you see, what you do in your academic writing, is no more relevant in your business writing. The workplace writing requires you to reverse the triangle.
Therefore, in order to turn your written communication into a fluent, effective and satisfying process. You need to understand how to:
Reverse the triangle
Brainstorm all the ideas that you want to communicate
Structure your thoughts in a logical manner
Be clear about what you want your reader to know or do (clear call to action).
Write to me at archana@archanaparmar.com to know more how you can master your business writing.
or
Schedule your discover call with me.