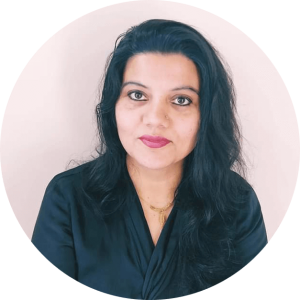 I am here to help you overcome psychological barriers, develop confidence, inspire, and guide individuals and companies to attain international success.
As an Executive Communication Coach, I combine three fundamental areas of communication – the intellectual, the psychological and the physical to help you speak brilliantly, enhance your influence and reputation, boost your confidence, and  discover your authentic style and voice. 
I am also a Certified TESOL and IELTS (British Council) trainer with a  decade of experience in teaching Business English to corporate professionals. As an English for Specific Purposes trainer, I offer an ear (Empathy, Acceptance, and Re-assurance) to my learners on their journey to polish their Communication skills and Business English.
In many years of experience, I have noted that people often develop usages and
communication patterns, both verbal and non-verbal, which do not support good communication. This led me to develop  Business English training programmes to help professional people identify their own patterns and find effective habits that can boost confidence, overcome inhibitions and self-doubt, and lead to better communication
in public and in private.
When I am not working, I spend quality time with my munchkin and am realizing there is a lot to learn from a child which we can apply in our daily practice. After all, babies are the best communicators when they don't know any language at all.
Today, I have clients from India and across the globe, and with my diverse experiences, I know about the individual obstacles or company hindrances that may arise and offer well-judged mentorship. 
Now,  it's time for you to take things to the next level. 
Let's get on a discovery call by scheduling time with me and see how we can meet our common goals.
I am looking forward to understanding more about you, your challenges and how I can help you.